The State Is Not The Answer
At next weekend's Cambridge Radical Bookfair we'll be launching part two of the Veganism – A Different Approach series. Titled "The State Is Not The Answer", this edition takes a look at the effectiveness of trying to use State power to achieve a better world for non-human animals. In particular, it focuses on two key pieces of UK legislation: the banning of battery cages, and the Hunting Act 2004. Using these two 21st Century examples the text attempts to illustrate why the pursuit of animal liberation through legal means can only lead to dead ends.
In contrast to the first book, "Capitalism Is Not The Answer", which collected articles from across the internet, this edition is entirely original writing by members of DIT Collective. As such, it is shorter in length but hopefully much more relevant in both its content and local references. Once again it has been designed, laid out, and hand-bound by our friend Aidan.
After its launch in Cambridge, the book will be generally available. In particular we hope to be able to have some tables at local events so if anyone has any suggestions or can help us out with that then send us a message or email. If you are a some sort of shop or distributor and are crazy enough to want some copies then that could be arranged too.
Thanks for reading,
your friendly local vegan anarchists.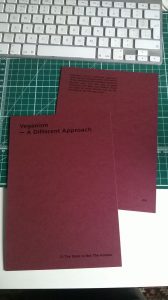 Tags: anarchism, anarchy, animal liberation, DIT Collective, hunt sabbing, norfolk, norwich, radical, veganism